UX WRITING
I'm part of a team that is developing an application focused on the search for health professionals for autistic people. But not just any professional: we want to help people find humanized care for autistics of all ages.
The idea for the app was born from a personal demand: both my son and I are autistic, and when seeking care, I had extreme difficulty identifying professionals who, like us, celebrated autism and neurodiversity, instead of trying to transform autistic people into neurotypicals
So, along with my husband, who is a Senior Software Engineer, I coordinate the development team. While he is more concerned with the developers, I run the User Experience part. I'm a UX Writer on this project; that's how I discovered my passion for the area. Next, I'll introduce mockups of the app.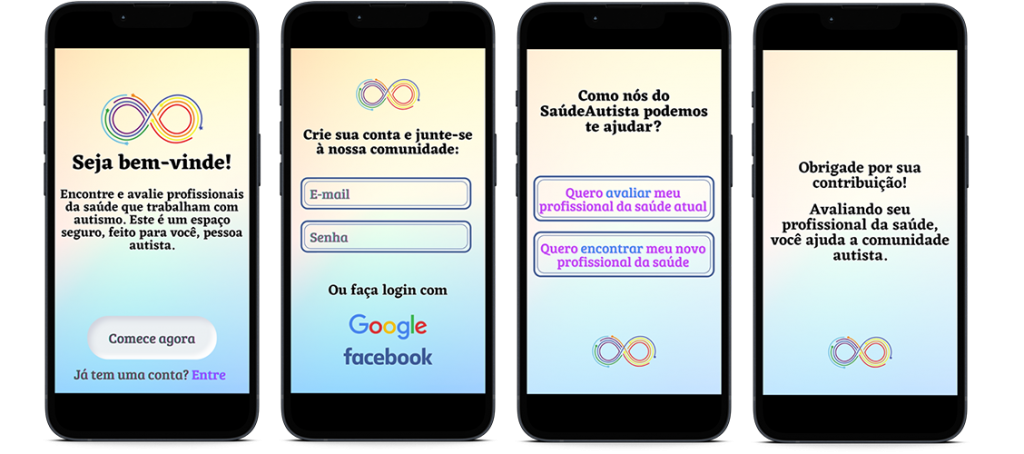 Some points that I noticed during my initial research, and implemented on the project:
The use of neutral language, more than something extremely important for our team, is essential for the users as well. Studies show that the autistic population is much more likely to be part of the LGBTQIA+ community. Outside of academic articles, I see this reality daily in my groups of autistic people.
The app design needs to be clean, in order to avoid sensory overload. So no uppercase letters or very long messages.
Information needs to be objective. This is a universal rule, of course, but even more important when dealing with the neurodivergent audience. That's why I decided not to make a login screen that contains a lot of information; even if there was the possibility of "skipping" the content, it doesn't seem ideal for the target audience. The more direct we can be, the greater the chances of the user completing their registration.
Finally, autistic people respond best to questions without open endings. Therefore, I decided to ask a series of questions with "yes", "no" or "I don't know" answers, to guide the user as to what we want to know. Among them: "Was the service humanized/empathetic?", "Did the person seem up to date on important topics for the autistic community?", "Do they work with ABA?" and "Do they work with autistic adults?". But there is also an optional open field, in case the person wants to elaborate his/her/their answer.
Making technology accessible to everyone is a beautiful life purpose, in my opinion. Working with UX makes that possible, as we are not only collaborating with a company/institution but also helping people who, without an accessible design, would not be able to use certain technologies.
---
FICTION & NON-FICTION BOOKS